Please note that the PARADISEC website has been redesigned.

The new website can be found at http://www.paradisec.org.au/
ABOUT US
PARADISEC (the Pacific And Regional Archive for Digital Sources in Endangered Cultures) offers a facility for digital conservation and access to endangered materials from all over the world. Our research group has developed models to ensure that the archive can provide access to interested communities, and conforms with emerging international standards for digital archiving. We have established a framework for accessioning, cataloguing and digitising audio, text and visual material, and preserving digital copies. The primary focus of this initial stage is safe preservation of material that would otherwise be lost, especially field tapes from the 1950s and 1960s.
A primary motivation for this project is making field recordings available to those recorded and their descendants. We have sent copies of recordings to the Vanuatu Cultural Centre, the University of New Caledonia, the Institute of Papua New Guinea Studies and to Rapa Nui.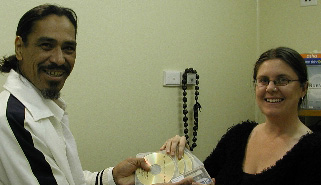 PARADISEC is a consortium of three universities: the Universities of Sydney and Melbourne, and the Australian National University. Thanks to the wonders of modern technology, operational functions are distributed across the participating campuses. PARADISEC is directed by a Steering Committee of representatives from these three universities. The PARADISEC Director is Dr Nick Thieberger and the Sydney Director is Prof Linda Barwick.
At the University of Sydney we are hosted by the Faculty of Arts. Our University of Melbourne base is in the School of Languages and Linguistics. At the Australian National University we are hosted by the ANU College of Asia and the Pacific. Our distributed project operations have been made possible by the high bandwidth dedicated research and education network AARNet and the data storage facility of the Research Data Storage Infrastructure. We archive our audio data to international standards and formats for digital preservation using the Quadriga Audio Archiving system.
Our information leaflet is available in English, French (PDF), Simplified Chinese (PDF) or Bahasa Indonesian (PDF)